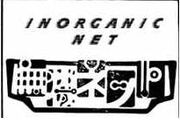 :
For the team currently known as Sleeping Forest, please see Sleeping Forest.
Inorganic Net is a virtual copy of the original Sleeping Forest, a team composed of the first 8 Kings of the A.T. world.
The Original Sleeping Forest was supposedly created by Sora Takeuchi to protect the Trophaeum Tower from incursions by Storm Riders, but was actually a means for him to attain the Sky Regalia. To create Sleeping Forest, Sora gathered all the remaining Gravity Children who were still willing to ride A.T. with the intent of creating the ultimate team. He succeeded in this endeavour: at its peak, Sleeping Forest reigned over the A.T. world and was widely considered to be the greatest team of all time. Co-commanded by Kilik and Sora, its members held the Regalia of all the 8 major roads, a feat which has not been duplicated by any other team since.
However, Kilik gradually came to realise Sora's true intentions, and became increasingly disillusioned with the violence and suffering occurring in the A.T. world. Matters come to a head when Kilik learns of the existence of the Second Generation of Gravity Children, and he leads a successful coup against Sora, remaking the team ('New' Sleeping Forest) in his image.
At some point, its members' R.E.A.D. data was collected and stored in a computer program as a virtual team named Inorganic Net . Since this 'team' does not actually exist, challengers must connect to a special server via a direct neural interface to access their territory. Inorganic Net is unique in that it has permanent seed status in the Gram Scale Tournament .
The members of Inorganic Net are listed in this table:
Anime/Manga Difference
Edit
The only member not to make an appearance outside of the Inorganic Net is Dauntless.
References
Edit
External links
Edit
Community content is available under
CC-BY-SA
unless otherwise noted.