Mizushima Nana, or mainly known as Kana (奈々) is a member of Tool Toul To and Thunder King Nue's link tuner.
Sypnosis
[
]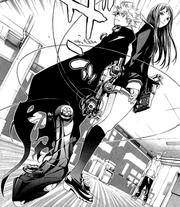 She's a third-year student and is very experienced in technology. Kana witnessed how Hako stole the original Bagram Core that Kururu made and replaced it with her own. She was going to tell Konomi about it, but was threatened by Hako not to do so. Later she was seen with Nue tuning the Thunder Regalia and beating Gabishi of Sleeping Forest.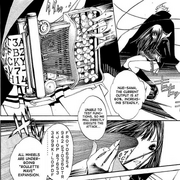 On Sora's aircraft carrier, at first she was being offered by Konomi to becoming Kururu's temporary replacement for being a link tuner for Ikki after she had to completing the Storm Regalia, but got interfered by Hako and stated that she will become Ikki's tuner. Later on, Ikki chose Ringo to becoming his tuner instead.