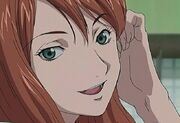 Unborn Child
[
]
This will be the child of the former Thorn Queen Rika Noyamano  and Sky King Sora Takeuchi. He/she does not make a physical appearance in the series. He/she will most probably be raised by his/her mother-Rika.
Air Trekking Ability
[
]
Though not born yet it can be predicted the child will be very strong considering his/her parentage.