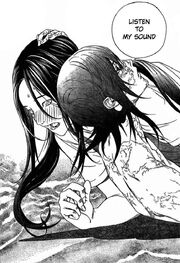 About me
Hi, I'm Black Swallow.
Air Gear is one of my favourite ongoing series of manga. I've read all the scanlated chapters of it at OneManga, and watched all the episodes of it online, either subbed or dubbed in English.
So, I joined the Air Gear wikia to help improve its standards a little, because Air Gear is such an under-appreciated manga, and it's good to have a place where people can find out more about the series.
I always thought it was a shame that the anime series of AIr Gear was cancelled, because it wasn't half bad and followed the manga pretty well. I'm among those who hope it'll be brought back sometime soon.
Agito is by far my favourite character. He and Akito have some of the funniest lines in the manga, and I always love reading series arcs based around them.
My contributions
My favorite pages
Agito Wanijima << My favourite character from Air Gear. Akito, his other personality, is equally as funny.
Parts War << This is the page I've contributed most to.
List of Volumes << Added it, and hoping to expand it by creating articles for each of the individual volumes of Air Gear.
Links
My sites
Lune-Noire << My website. ~*Currently Under Construction*~ Please visit and sign the Guestbook!
Spore - FREAKii27 << My Spore Account. Creature comments are appreciated. Feel free to add me as a buddy.
Others
OneManga - Air Gear << You can read all the current scanlations of Air Gear here. It's my favourite place to read manga online, they have lots of really good manga series, and update very quickly.
Community content is available under
CC-BY-SA
unless otherwise noted.